The Pine Forest Shadow House is a modern, shed-roof cabin and the owners consider it an architectural sculpture in the Methow Valley. From sun up to down, light moves around the property, casting shadows. The intent is to create another shadow in the forest. The building hides in the pines to not take away from the beauty that stood there for millennia before its existence.
Architecturally, the structure steps away from you in 5 planes: entryway, foyer, mud room, bedroom, and towards the forest lanai. The material choices and colors blend in with the shrub-steppe hillside. Functionally, the Shadow House is meant to be a true getaway cabin for an active couple and their family and friends. The living space is open but retains a human scale to emphasize a feeling of comfort.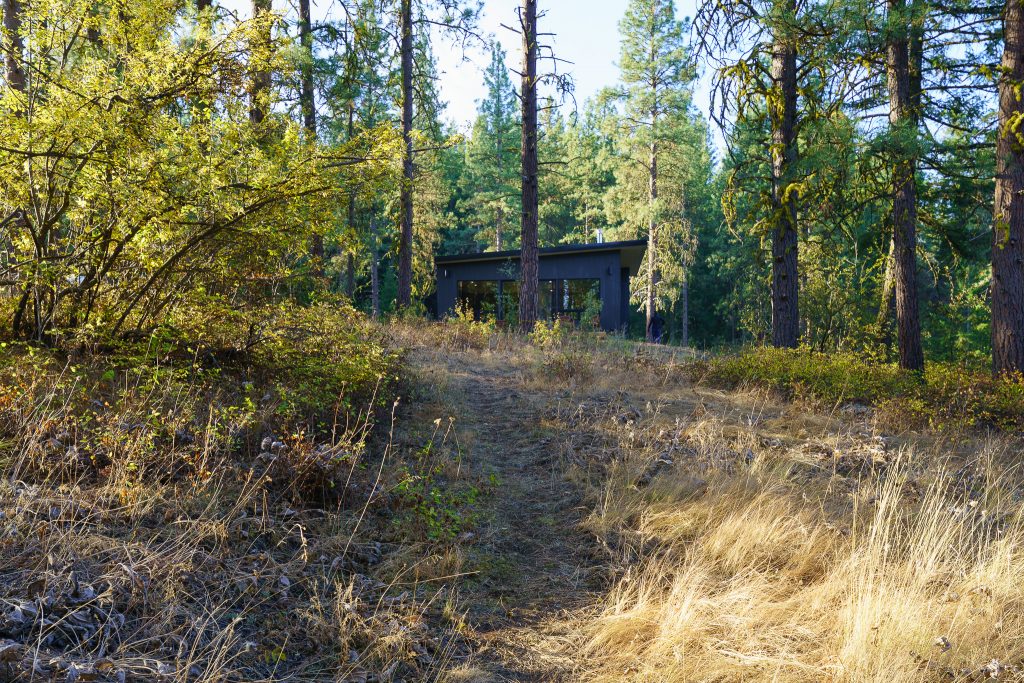 Carefully placed windows open the main room to the beauty of the forest around the house allowing a sense of immersion in nature from the comfort of the cabin. Sleeping quarters are intentionally kept small to encourage use of the main space. The entry layout is specifically designed around an active lifestyle with quick access to a mudroom and laundry space. The bathroom features a soaking tub for relaxation and recovery after the days long adventures in the mountains of the Methow.
Pine Forest Shadow House Construction
Constructed with a 4-ft foundation, Hardipanel, and metal roof it will house the owners comfortably through 4 seasons and protect them in the event of a wildfire. The lanai is a defensible space and in the summer, the soffit extends the living area to the outside with shade.
The Shadow House was designed and is being built by Black Cap Builders Collective. It's constructed with green materials and modern techniques. Black Cap brings attention to detail, craftsmanship, and ability to realize the vision the clients had for a home in the Methow.
On a budget.
Specs
5 Red Pine Ct, Winthrop Wa, 98862
4-acre lot in Pine Forest at 3300 Ft
1100 SQ FT
2 bedroom
1 and ½ bath
Cement foundation
Hardipanel exterior with a wood-wrapped entryway on 3 walls
Metal shed roof
Metal south facing, the snow wall.