All building design projects are unique and the Intrinsic Design process is concerned with the individual character and needs of each client. Intrinsic Design can provide building, landscape, and interior design work as the client would prefer. Most projects will have a similar workflow from beginning to end. This list is meant to help outline the common steps that a client of Intrinsic Design can expect.
Meetings
We will get started with an interview or two to understand client needs and budgets. Those will take place at our TwispWorks office.
Site Visit
Visit the site in person to take in first hand the features that make your property special so they can be incorporated into the design.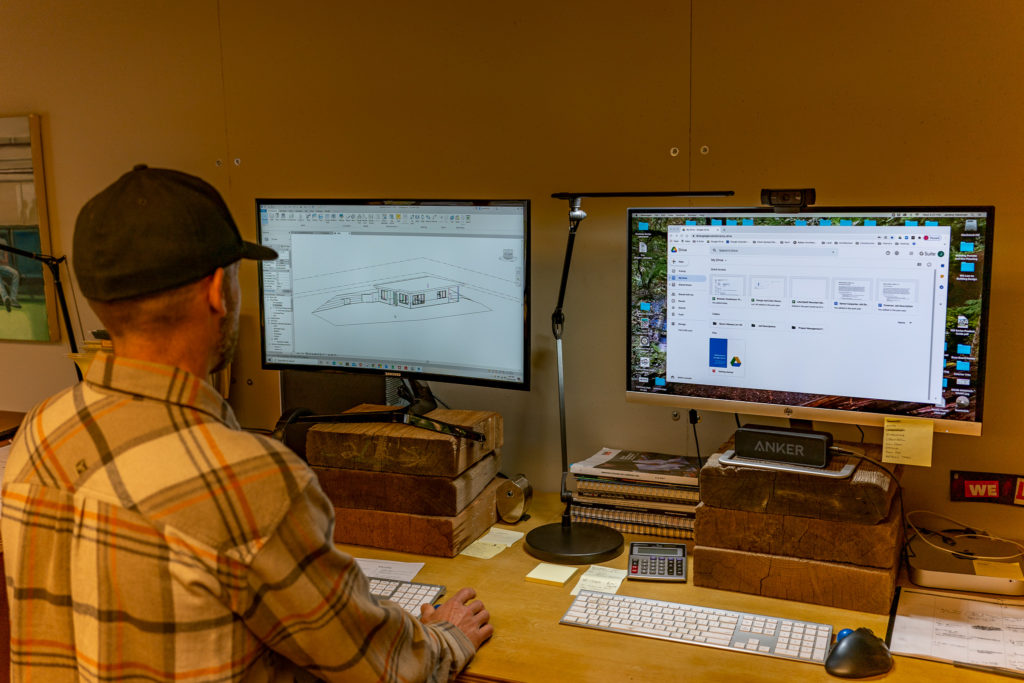 Preliminary Sketches
The information gathered in the interviews and site visits will inform the preliminary sketches of the floor plan for the building.
First Drafts
As confidence is gained in the floor plan sketches, they are translated into the first draft of the floor plan in the computer drafting program. This is where we can start modeling the building in 3D to get a sense of its form and size.
Revising Draft
We will work back and forth editing and revising the details of the floor plans and structure until we feel we have everything just right. Sometimes this happens quickly and sometimes it takes a few renditions to get resolution. We aim to strike a balance and make sure that the finished design is exactly what the clients want.
Estimation Plan Set
With the basics of the design work complete, we can move the drafting stage forward to the creation of a plan set that will allow builders and subcontractors a chance to create an estimation of the project cost. Details will be drawn in, interior and exterior finishes will be called out and window and door packages will be specified. Structural engineering of the building will be completed and incorporated. The resulting estimation gives us the chance to take a second look at elements that might need to come down in cost or, better yet, to see opportunities to stretch the project a little further and design in a special feature or two.
Permit and Construction Plan Set
Once all of the design and engineering decisions have been made, we can move on and revise the Estimation Plan Set into the Permit and Construction Plan Set. This is the set of plans that the building department will authorize for your project and that your contractor and crew will build from. All interior and exterior details will be included for builder reference and a Master Electrical Plan will be created.
Project Supervision/ Site Visits
We would prefer to be involved in the monitoring of the project as construction takes place. Simple visits to ensure that the building is sited correctly, that plans and specifications are being followed and that builder questions are answered quickly to ensure that the project that we designed is built to your expectation.